Search Engine Optimization for Businesses in Qatar in 2022
Businesses need to Search Engine Optimize their Websites
Search Engine Optimization or SEO is an online activity that improves the visibility of your website on Google or other Search Engines. This activity is carried so that your business is found when potential customers search online for your products or services.
Year 2022 is the most important year for Qatar with FIFA World Cup being played this year. This means more people visiting Qatar, more business opportunities to start up and to expand existing businesses.
Potential customers use specific keywords or key phrases relevant to what they are looking and if your website content relates to the searched keywords, you have a strong chance of Google showing your website on the search results page. Keep in mind, the first page of Google lists 10 companies as part of the organic listing, along with Google AdWords and Google 3Pack. Search Engine Optimization as a strategic activity is not easy as you think it is. Nuance Digital Qatar one of the leading digital marketing agencies in Qatar can help you optimize your website and get some good ranking on Google.
SEO and Visibility
The better visibility your pages have in Google Search Results Page, the more likely you are to garner attention and attract prospective and existing customers to your business. For this, you need to have a knowledge of the industry, understanding  your competition, technical know how of optimization and continued monitoring of your listings on Google. In addition, you need to be appraised of Google Algorithmic changes that take place time to time.
Local Businesses in Qatar and Search Engine Optimization
The State of Qatar is home to more than 25,000 business. A country that has a number of holding companies and their subsidiaries. In many cases marketing is controlled by holding companies who seem to still hold on to a traditional approach in marketing. This affects subsidiaries when it comes to them competing with other local businesses.  However, the trend is gradually changing especially with the pandemic, the need for digitization and digital transformation for businesses in Qatar is gaining traction. I have been getting enquiries from holding companies who want to market their businesses online, build e-commerce sites and go social. Well, the reason for this fast-growing interest in digitization is because their customers and competition are online and online visibility is critical.
My advice to businesses in Qatar is, fix your website to be Google friendly and immediately commence Search Engine Optimization. 96% of search for any product service or company happens on Google. The question is whether your company is visible on page one when a potential customer is looking for you or your products of service. Search Engine optimizing is the way forward for your business.
 How does Search Engine Optimization – SEO generally work?
Let's take the top most search engine "Google" as an example. Once your pages are submitted to Google through your site map, the search engine uses robots usually called as bots to crawl into your website pages through your site map. These bots go from page to page on your site, collecting all information and indexing them. Here, it is important that you site has enough original content, quality keywords, is mobile friendly and navigation friendly. We will be further discussing this in more detail.
Google has its own inbuilt mathematical formulas called algorithms and decides as to which site needs to be ranked above the other for a relevant query provided by the end user. For Ex: "Deep cleaning service in Qatar" Google picks up the most relevant search and places it on its search engine results page. Cleaning companies that have optimized their sites have of course a better chance on being ranked on top of the organic search.
Googles algorithms change from time to time and SEO agencies like Nuance Digital and others keep themselves appraised on regular algorithmic changes.
You can also be ranked on page one of Google by opting for paid search with Google AdWords. However, this costs higher compared to organic search where you rank you company high on Google through Search Engine Optimization (SEO)  Google AdWords and Organic ranking can be managed simultaneously and strategically.
Organic Search Vs Paid Search
Organic search optimization differs from paid search. In the case of paid search, you pay to be ranked on top through Google AdWords, Google Display Network or Affiliate Network Advertising. Organic search activity on Google requires strategic approach and continued working on keywords, content, linking your sites and much more. This also includes on page and off page optimization to ensure your site moves up the ranks based on the rules laid down by Google.
Paid search is where you pay to be ranked on top of Googles paid search. You decide your objective and investment for a month for example. Based on the cost of each click the amount gets deducted from Google account. This is also called Pay Per Click or PPC.
Search Engine Optimization can be categorized as
Organic Search Engine Optimization
Local Search Engine Optimization
In this article we are going to discuss about Organic Search Engine Optimization.
Organic Search Engine Optimization:
Organic Search Engine optimization is an activity carried out by specialists to rank high on the Search Engine Results Page (SERP) of Google and other Search Engines. The activity is of two kinds
On Page SEO
Off Page SEO
On-Page SEO
This activity includes techniques for optimizing individual web pages to rank higher on google search pages. thus earn more relevant traffic to your site.
On-Page SEO includes 3 activities
1. Content:
"Content is king." Google searcher consumes content that is relevant through which he or she is provided with answers to what he or she is looking for. Good content in a website is what leads an online user reach to what he is looking for.
For Ex: when you look for the specific range of flooring or sanitary ware in Qatar. Google will do everything to look for relevant content on sanitaryware dealers in Qatar. It tries to give you exactly what you are asking for. So that you as google customer have the best search experience. Meaning, better the content on your website or your blog, better the recognition by google for your site or blog to be ranked high on google Search Results Page.
 What constitutes good content?
Good content basically includes Quality, Freshness, relevant Keyword Selection,
Quality: Quality content stands out of others when it comes to originality, readability. While Quantity is important, it needs to be seen if the content is well structured and whether it relates to the headline. Therefore, when you write content you need to ensure it is Google and SEO friendly. Also ensure that keywords and key phrases are seamlessly integrated into your content.
Freshness:  Mostly businesses add content to their websites while going live and never add, tweak, or change it post going live. Frequent posts with new content are what Google appreciates. Keep updating the content you have already published on your website and if needed rewrite content. This ensures freshness of content. The more the content is current and relevant the more Google will rank you higher.
In-depth and detailed content which returns accurate result to a user is segmented on Google search as "Direct Answer by Google" – Google sometimes provides searchers with direct answers right on the search page. This usually happens if Google finds an exact answer to the query posted by a user on Google Search. Direct answers show directly beneath the search bar.
In all, ensure your content is simple, original, relevant, and readable.
2. Keyword Selection:
Any user searching on Google for a product or service uses keywords or key phrases. Therefore, most of the SEO activity revolves around keywords and how they blend around the content to provide originality. You write content based on a key topic which is a key word or key phrase followed by relevant keywords appearing in the content.
You need to constantly research keywords find what and how your potential customers are looking for you and tweak or add to your content. Tools like google keyword planner  give you suggestions and help you in building the right keywords.
Do not forget to check your competition and the keywords they use. This will help you better yours content around the keywords your competition use thus compete with them.
 You might have all the keywords in your content, and yet you are not able to rank, don't worry.  Search Engine Optimization is a slow move upwards. SEO activity is a comprehensive effort, and it is not only about keywords. Understand that SEO does not provide you immediate result but surely you will see a gradual move to page one of Google. However, If you want an immediate result you need to be opting for Google AdWords. It is advisable to opt for Google AdWords for the first 4 months while embarking of SEO.
How to find relevant keywords for your business?
Focus on search intent: Identify what your customers are searching for and what is their intent. Focus on revenue deriving keywords.  For Example: if you are a cleaning  company and you are optimizing your website. "cleaning company in Qatar" can be a common keyword.
First look for Googles Suggested search for the query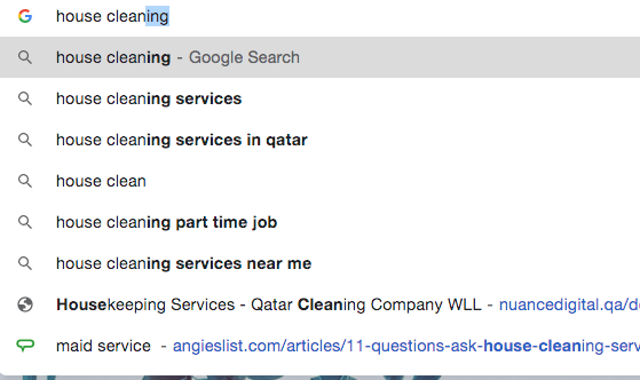 These are other common searches that people perform. For Example: Best house cleaning company in Qatar. Here, they are looking for a house cleaning company. Except, they aren't ready to commit to one just yet. The searcher is looking for a way to evaluate alternatives. As a Search Engine Optimizer, you need to go after the search intent where the buyer is looking for alternatives or multiple options. Searching audience will be far more interested in what you sell.

3. HTML
Once your content is structured well and ready to be uploaded, the next step is to take care of HTML.  You need to focus on four parts of HTML and optimize for each single piece of content you produce.
Title tags: Title tag is the content that shows up in the tab of your browser when you open a new page. It is like reading the headline on a newspaper before you continue to read the content. This HTML tag is called the "Title".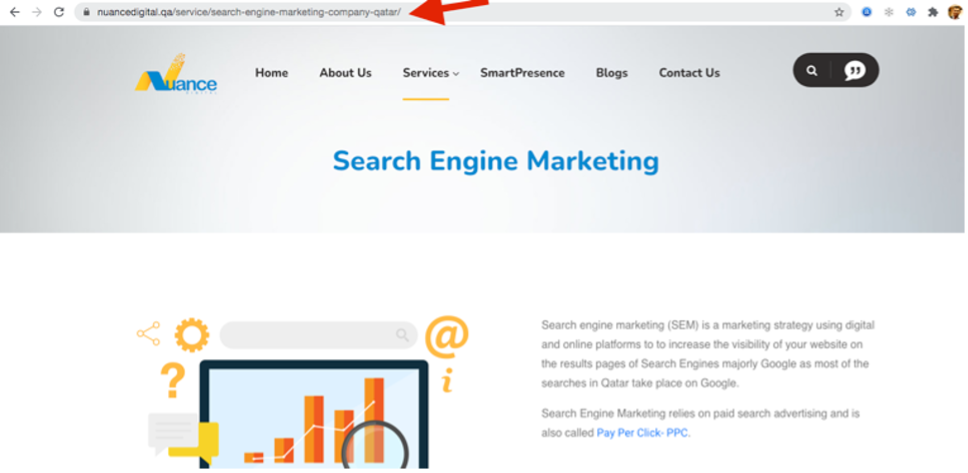 Meta description: Meta descriptions show up just below the keyword displayed. You will know if the content has been optimized on reading the description.
Notice optimized meta descriptions also often mention the content's keyword up-front. Quick Sprout University can help you with great meta tags. Meta Description needs to be a snippet of 160 character. Keep the searcher in mind when you write the meta description
Schema:Schema is basically just a subset of specific HTML tags that improve the way the search engine result pages display your content. Schema markup is code (semantic vocabulary) that you place on your website to help the search engines return more informative results for users.
Subheads :Although subheads have lesser power than the H1-Tags, they still add value to your SEO activity.
 4. Architecture:
In addition to content, keywords, title tags and meta description, the last part of on-page SEO is site architecture. This part of SEO focusses on the speed, loading time, safe connection and mobile responsiveness or adaptivity of your website on deferent devices. A good website architecture leads to a great experience for the user when he or she navigates your page.
You decide on the architecture of the website even before you buy a domain. Planning a good architecture influences the UX of your website.  Peep Laja, a champion on optimization has written a great article on how to optimize for UX
5. Content Delivery Networks (CDNs)
Content Delivery Networks are another fast and easy way manage website speed. Most websites today are full of high-resolution images which slow down the site.  A CDN like "Cloudflare" will take the high resolution images available on your server,  host them on their global network and deliver them to users from the closest point possible to decrease loading time thus positively impacting the performance of the site in terms of opening speed and functionality. A good example of using a CDN is the website of "Qetaifan Projects". Check the images, the site uses CDN
6. SSL
This is a digital certificate that authenticates a website's identity and enables encrypted connection. It stands for "Secure Sockets Layer", a protocol that creates an encrypted link between a web server and a web browser and can be purchased online.
Technically, there are five different SSL options to choose from however most relevant for SMBs are the 3 mentioned below
Single Domain:
This option protects one single domain name. It won't, however, work on subdomains.
Multi-Domain:
Your second choice will cover multiple domains like "nuancedigital.qa" and "localorm.com."

Organization:

This is a single domain SSL. However, it doesn't cover as much security for e-commerce transactions.
Off-Page SEO
While on page SEO is about optimizing the internal pages of your website, Off-page SEO is a continued optimization activity that includes efforts to increase the site's search engine rankings from outside the website. Some of the activities include building backlinks, attracting brand searches, and increasing engagement and shares on social media.
Off-Page SEO
Off- Page SEO can be divided into three major areas
Trust
Backlinks
Other factors
1.TRUST
Google has invented a process called PageRank, this is one of the measures SEO professionals take to rank your pages in the top ten search results.
Trust Rank is a way for Google to see whether your site is genuine. For this quality backlinks from authoritative sites (.gov domains) also help. There are ways you can build trust for your website 
Authority :
Google determines the overall authority of your site by a mix of two kinds of authority.

which has to do with how widespread your domain name is. for ex: www.ethiraz.gov.qa is very authoritative, for example, because most in Qatar have heard of it.

Page authority:
which relates to how authoritative the content of a single page (for example a blog post) is. Great original and relevant content with amazing editorial will help you in
Bounce rate:
Bounce rate is a measure or the percentage of all sessions on your site in which users viewed only a single page before immediately leaving your site.
Some of the reasons why users leave your site without spending time is your website content, time the site takes to load, usability, good videos also help users to stay back.
Your website needs to be sticky. You define "Stickiness" as a website that entices visitors to stay back on the site and return for more. The aim of your website should be to encourage your website visitor to explore various pages in the meantime impart marketing messages to your engaged visitor
Google monitors your website stickiness. Too many bounces by users from your site negatively affects Google ranking your site. Normally, your bounce rate should be between 26% – 70%. On average you should maintain between 41% – 55%.
For example: this is a list of Tea shops in Qatar
Take in that the first and third options in the listing above look good where you spend at least 3 to 5 minutes checking out each of the sites. However, the 1st site did not meet your expectations and you bounce out of the website in a few seconds… this gives a negative feedback to Google about the 1st site and Google might drop the ranking of the site. For this reason, click through rates are more important than rankings today.
Users turn to Google specifically to search for the branded terms. Increased searches only serve to strengthen a website's authority for search engines. Brand really does impact SEO. Therefore, owning a brand or personal identity online is a huge trust signal for search engine
I am sure you will pick the one that you recognize, or has a good brand recall. You will not want to take a risk on an unknown company.
There are the areas to consider when we work on backlinks.
Link Quality:


Keep in mind the quality of links matter more than the number of links your website has. Generating backlinks is not the only off page activity as you have seen in this article however, quality of the links matters most. Building quality backlinks needs patience and effort as you have to reach out to right sources and provide value in exchange for a solid link.
Some the ways to generate backlinks
Fixing broken link
Using infographics
Guest articles.
Check competition
Building internal links.
Promoting original and high quality
Connecting with bloggers
Write testimonials
 Anchor text is the clickable text in a hyperlink. This text needs to be relevant and not generic to the page you're linking to. The content in the anchor text help determine the ranking that your page will receive when users search on Google, Yahoo and Bing.
To know more about anchor text click here.
As a Search Engine optimizer, you should work on creating contextual backlinks. You embed Contextual backlinks are links within the content, such as a blog or article.
While backlinks are important for ranking, it is the quality of the backlinks that matter more and have a better deal over the other.
Other factors that can help you in off page optimization
Country:

Most of the searches are for local requirement and are based on local time zones. Search engines interpret words differently.  "Kandura"  a product in Qatar is searched as  "Thope" in the UAE . This means the same product is named differently in two different countries. Your SEO activity will take into consideration products which are called by different names when you want to optimizes in different countries.

Having a multilingual site helps you in reaching more people and helps you rank when people are for example searching for your services using the Arabic language.

Locality:

Near me searches are on the increase. Geo-targeting down to the city level helps and you could rank high for near me searches. Optimizing for "near me" searches is very important That's why you usually see results from right around the block when you search for a fast-food chain.

History:


Google most likely shows you as a search result for searchers has spent who have already visited your site because you are a relevant result. This also depends on the time the searcher spends on your site… refer to "Bounce" in the article above.
d. User Experience:
Google and other search engines want to provide users results of sites where they can not only get the required result but also a positive experience. For example: you do find a relevant page however, you are not able to finish a transaction… the experience is not that good.
User experience (UX) begins from site navigation to the quality of your site content, site speed and more. Refer architecture in the article above. Search must be seamless; the search structure or hierarchy of pages must be easy when it comes any of the devices the user opts to use.  Broken links, language, typos and bad grammar affect user experience.
e.Intent
Does your page / content match the intent of the user, if so your page will rank well on a search engine. The pages that rank well are the ones that best answer the query of the searcher.
Search intent can typically be categorized as 1. Informational, Navigational, Commercial, Transactional
Intent vs words used in search:
Intent goes beyond words, a user searching for "height of the tower in Dubai" can actually be the user trying to find out more about Burj Khalifa in Dubai.
Going social helps you gain traffic to your website, videos on google, your Facebook, Instagram, LinkedIn pages help generate organic traffic to your site. This also depends on the Quality, Quantity of shares and viral it has generated. Google recognizes content and the source of shares. You must integrate social media profiles to your website.  In the end, more the content, better the content more social you are and more chances of Google picking your site to rank on google.
On-page SEO vs. off-page SEO
On-page SEO caters to optimization activity on the relevant website page that is your website page headlines, page content and page structure
Off-page SEO depends on external links to other webpages, your blogs and search history of the end user. You cannot totally control Off page optimization
Conclusion
Creating a great looking site is just one part of website development. You got to know as to what you want the website to do for you and for this ensuring the right architecture, content, and optimizing the same is very critical.
I hope this guide will help you understand the nitty-gritty of Search Engine Optimization. SEO needs time and effort and I would recommend a 4-to-6-month timeline to see some results that too based on the site, the business category and the competition that exists online.
Let me know if you have any queries and I can assist you with the same.
Aldrin Menezes
Nuance digital