5 Best Tips on "Local SEO" for businesses in Qatar
Local SEO is an optimisation activity to enhance online visibility, branding and attracting business enquiries. Ranking high on local search engines like Google, Bing, online directories and mapping platforms get further increase visibility resulting in more clicks. Google commands highest search volumes. Local SEO is however not only about google but other search engines like Bing, Yahoo, foursquare, and online local search directories in Qatar. In this article you are given 5 tips on Local SEO a basic requirement to rank on Google's local search
Google rules the roost with almost 85% of searches on Google. Therefore, our focus in this article will be on Google. We need to understand that Google is more concerned about delivering the right search result to the end user. In other words, Google picks closely relevant information from thousands of local websites and ranks them on top on the Search Engine Results Page (SERP) thus helping the end user to get what he or she is searching for.
Let's get started
Is your website responsive:
First, ensure your website is adaptable to all kinds of screens – Computer, Smartphones, Tabs – https://posts.gle/t8MLf . Research has shown that 80% and more of mobile searches contact a local business if the site is mobile friendly.
For Example: www.nuancedigitl.qa . The site is adaptable to all devices and screens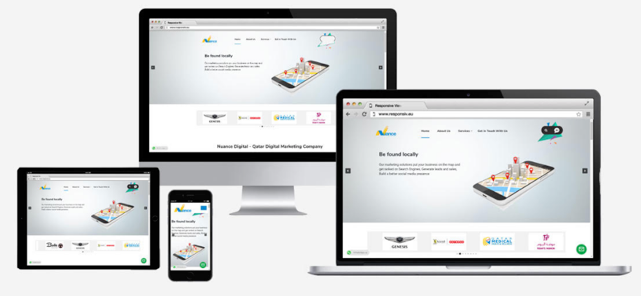 Responsive Vs. Non Responsive Website
Your website should be attractive, easily navigable. It should provide call to action and will need continuous attention in terms of content and link building.
1.1 Keyword Research for Local SEO
Let's imagine you run a restaurant named "Insta Cuisine" in Qatar. You would like to be clearly visible for searches like:
"restaurants near me";
"Insta Cuisine"
"what time does Insta Cuisine open? / what time does Insta Cuisine close?
What is the distance to Insta Cuisine?"
What is Insta Cuisines phone number
For Example: Search results on Google for "restaurants near me"
Keywords can be more area specific
Restaurants in al Waab area
Door delivery in Thumama
Chinese cuisine in Doha
These keywords, key-phrases contain locations. Best is to make a list of all relevant services you offer and create a bunch of potential keywords to optimize.
1.2. Google Autocomplete:
Search predictions help on Google
Google auto complete will help you generate more keywords through its autocomplete suggestions.
For Example: "Restaurants in Qatar."
You can see relevant user searched keywords that you might not have thought of.
https://ads.google.com/home/tools/keyword-planner/ or
https://ahrefs.com/keywords-explorer will also help you find relevant keywords and save time for you. You can know the ranking of keywords and search volumes for specific keywords.
2. Listing on Search Engines for Local SEO – Google My Business and other search engines and Mapping platforms.
I would say the first most important step for Local SEO is getting your Google My Business listing updated and use the same information to list on all other search engines like Bing (Bing Places), Apple Maps, Facebook, Trip Advisor, Zomato and local directories. This will help consistency of data all across and help with your Local SEO
2.1 Google My Business:
It is a free and easy-to-use tool for your businesses that helps you manage your online presence across Google, including Search and Maps. Verifying and updating your Google My Business listing will help your customers know more about your business including where and when to find you.
Updating and posting relevant information and content regularly on Google My Business ensures fresh content which google respects and picks as a search result for your potential customers in Qatar considering you are a Qatar based company. Qatar supports local search and provides local search results.
You can create a listing as long as you are a brick and mortar business with a physical location
A new business
Claiming an existing business
Nuance Digital a Qatar located digital marketing solutions company can help you in claiming your business on Google and manage it for you through the year.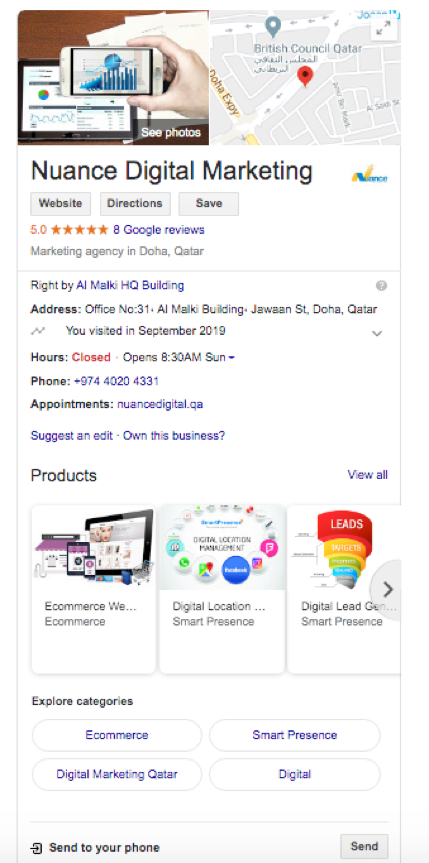 Ensure you add more categories, upload alt tagged photos regularly. Additionally, post offers, events or other content on a regular basis. Integrate your social media links on all the search engines you update your listings.
2.2 Reviews on Google My Business:
Reviews on google my business is one of the very important attributes for your company to be ranked high on "Google 3 Pack". Since Google wants to offer its user (your end customer) the most relevant and accurate information. One such avenue for google to get relevant information about you as a business is from the end users through reviews. The more you respond to your customers reviews the better for your business to be ranked. As part of your customer engagement, encourage your customers to review your business. Let them know it does not take much time and effort to review your business through mobile devices or desktop computers. Reviews build business credibility and customer trust.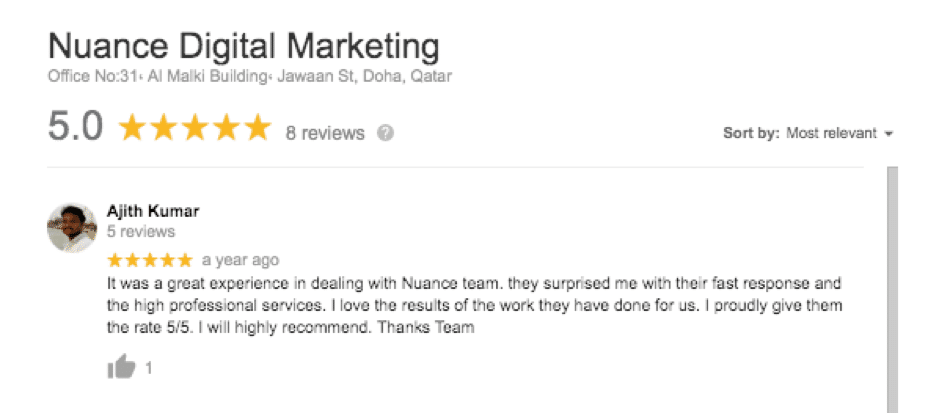 2.3 Unclaimed Business listing:
The Example below will show an unclaimed business listing. Google my business is the basic foundation or cornerstone of Local Search. Claim your business on Google if you have not. Nuance Digital Qatar, www.nuancedigital.qa can help you do that.
2.4 Google 3 Pack or Snack Pack
With the increase in the usage of mobile phones across people, Google has changed its search results layout to help the mobile user. Thereby introducing "Google 3-pack" or "Snack Pack" that fits perfectly to the mobile screen and navigation is seamless
Results for "Near Me" searches on Google 3 Pack
Searching – "Vegetarian restaurants near me" first 3 responses on Google 3 Pack
Let us understand more about the Google 3 Pack or Snack Pack results:
"Google 3 Pack" is the results that you find in a boxed area just below Google Ads or Paid results. In the case were paid ads are not available the listing results page begins with the "Google 3 Pack" followed by the regular or organic listings.
The Google 3 Pack provides 3 local listings followed by a tab "more places" if clicked will lead you to many more results.
Local SEO or organic SEO is an ongoing activity… some of the activities to keep in mind. Stay Active on Google My Business
Respond to customer/client reviews;
Look out for incorrect edits;
Use Google Posts to keep your customers informed
No.1 is pretty self-explanatory—just keep track of and respond to reviews (positive and negative) in a timely fashion via Google My Business.
Keep an eye on "Suggest an Edit" on your Google My Business knowledge panel. If you do not respond to the edits specially the incorrect ones, chances are that Google will carry out the edit recommendations without notifying the owner of the business or GMB listing.
2.4 Suggest and Edit
Keep an eye on "Suggest an Edit" on your Google My Business knowledge panel. If you do not respond to the edits specially the incorrect ones, chances are that Google will carry out the edit recommendations without notifying the owner of the business or GMB listing.
2.5 Google Posts on GMB:
Be regular with your posts on Google My Business. It acts as a micro blogging site. These posts are live on the GMB knowledge panel for 7 days and can be shared to your social media pages too.
Not only does this increase your SERP real estate, but it provides an opportunity to attract more attention and boost conversions.
GMB is more of a do it yourself panel however, you will need some planning to ensure you have the right content and there is consistency in what you communicate and uniformity in your campaigns. Www.nuancedigital.qa a Qatar based digital marketing agency specialized in Google My Business Management can assist you in this regards.
3. Local Citations (NAP)
NAP – Name, Address, Phone are the basic contact information of any business. Called NAP (Name, Address, Phone Number) We can call it NAPW adding Website to the contact information.
The NAP or NAPU can be found in two types –
Structured
Unstructured
Structured:
The company name, address and contact listed in Directories like in the www.yellowpages.qa. Example of a structured NAPW

Unstructured NAP or NAPW are found in Blogs, articles, Posts of news papers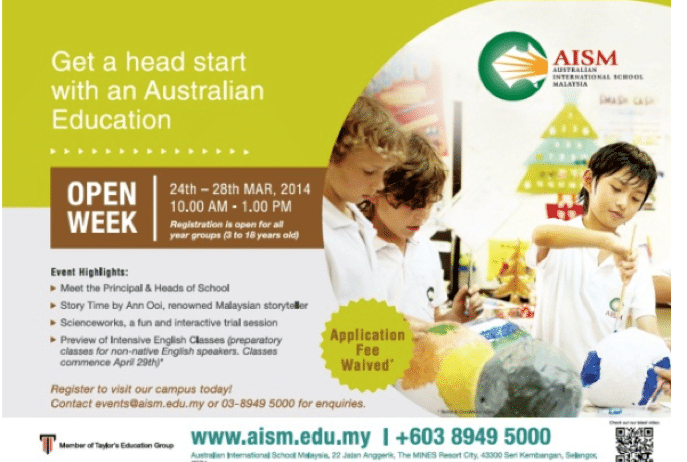 3.1 Why are citations or structured NAP very important for local SEO
NAP or NAPW need to be accurate and consistent across local directories. The NAP on your website has to be the same posted on GMB, other mapping platforms, other local directories like www.yellowpages.qa, www.myqbd.com, www.qatcom.com, www.qatarliving.com and other.
Citation signals are one of the top ranking factors for Google as it focuses on local search organic results or SERP. Consistency in NAP ensures that the provided information is from a single source and is genuine. If the NAP is not accurate and consistent, it will mislead search engines like Google, Bing who will not rank the company in the organic search and on Google My Business 3-pack.
Google does not only refer its organic content but also reaches to Face book, Twitter, Instagram and other search directories and if the NAP is not consistent across platforms, Google will deem it as not genuine affecting the company's ranking.
Make sure citations are accurate and ensure the citations – (NAP/ NAPW) are across all local directories.
For Example: Contact and address mismatch between Website and Google My Business – Not good for local search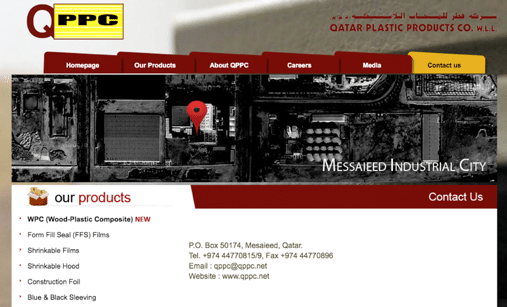 3.2 Consistency in contact information or NAP:
Today it is all about ensuring consistency in contact information across search engines, local directories and mapping platforms.
The Name, Address, and Phone number (NAP) needs to be consistent across all platforms, starting from your website to listings across all search engines, local online directories, social media profiles. Accuracy and consistency in contact and address data across all platforms helps local SEO.
Your company data updated to your website and "Google My Business" can be the base and the format for syndicating the information to different local directories, mapping platforms and search engines. For example: Nuance Digital's Google My Business panel.
4. Set Up Your Website Structure to Rank Local Landing Pages that helps Local SEO
It is very important to design local landing pages for every service you provide – google picks up each URL as a independent page for ranking purpose. If you are serving multiple areas it is advisable to set up local landing pages.
The right structure recommend:
yourlocalbusiness.com/area‑1/ yourlocalbusiness.com/area‑2/ yourlocalbusiness.com/area‑3/
4.1 Optimize Your Homepage
Optimize your homepage around your primary location.
For example: a Thumama based wedding photographer should optimize the website home page as "Doha wedding photographer". The reason is most of the search results are location specific.
Google on priority shows localized results. As it is able to infer your location from your mobile GPS, your IP, contact details on the website.
Must for all websites:
Show Name, Address and Phone (NAP) information – add NAP in the footer of every page of the website.
Embed a Google Map showing your location – preferable
Post testimonials, reviews and keep updating always.
4.2 Optimize Your Local Landing Pages
Your local landing pages should be optimized around individual locations.
Let's say that you're a Thumama-based cleaning company serving other locations: You might have the following local landing pages:
Cleaningcompany.com/Alwakra
Cleaningcompany.com/Alwaab
Ensure the following information is available on the landing page
Opening hours;
Local NAP (if you have a real local presence);
Related keywords available in the page
4.3 Adding Schema Markup to Your Website Pages
Go to the "Structured Data Markup Helper" provided by Google
Select the type of data that you plan to markup
Paste in the URL of the page or article that you want to markup
Highlight and select the type of elements to be marked up
Continue adding markup items
Create the HTML
It's just some additional code that provides Google with additional information about your business, your website, and helps the user to better understand the data and information being displayed on your website.
Users can see on the search results page (SERP) what your website or business is all about, where are you based and what you do and your pricing if relevant when your website has schema markup in place. It acts like your virtual business card.
Schema markup helps search engines to do exactly what they are supposed to do that is help users with the right information.
4.4 Link Building (for Local Sites)
One of the most important ranking factors for ranking on organic searches is the "link signals" and for Google 3 PACK Link Signals are the second most important factors.
Finder Ranking factors for
Google 3 pack

My Business Signals- proximity, categories, keyword in business title – 19%

Link Signals – Inbound anchor text, linking domain authority, linking domain quantity, etc – 17%
Localized Organic Ranking Factors

Link Signals – Inbound anchor text, linking domain authority, linking domain quantity, etc – 29%

On Page Signals – Presence of Name, Address and Phone (NAP) keywords in title domain authority)
Source: Moz.co,
5. Create and Promote Credible and Useful Content that is good for Local SEO
Most important of all to win over potential customers is to develop and post content that genuinely helps your customers.
Let's assume you are a cleaning company – Content on cleaning can be useful to your potential customers.
Here are a couple of ideas:
A Guide to cleaning for companies in Doha.
Different type of cleaning that cleaning companies do for their customers.
How to maintain a pollution or dust free office or home
Regular content tells Google you are active and relevant. Ensure you have quality in what your write. The content needs to be unique, relevant and elaborate. Publishing 2 blogs in a month will be good enough for small business.
Open a blog page, integrate the blog page to your website, create Social media pages like Facebook, Instagram, Twitter and integrate them to your website. Nuance Digital Blogs
Moving forward.
You can research deeper on the information given above. Local SEO or organic SEO is a continuous activity and one needs to know the changes Google is incorporating on a regular basis with regards to algorithms and other requirements to ensure you are ranked high. There are experts in this field who can help you and one such company is Nuance Digital – www.nuancedigital.qa