Online Review and Online Reputation Management
Your customers are talking about you in their reviews!
Online Review and Online Reputation Management is managing your customer's online voice, interaction and expectation. If any business thinks it can make it without online reputation management, they need to think again.
Expressing opinion is no longer a top down approach. With the Internet and smartphones well integrated into your customer's daily routine, your customers can express opinions powerfully and independently across neighborhoods, towns, cities and cross borders.
In addition, your customers are talking on social networks, tweeting about your products or launches, commenting on your blogs, posting a feedback on your Instagram or Facebook profile.
Unlike earlier, you need to take into account people's voices, opinions, and reviews. This is, if you want to see a satisfied customer and attract more.
The Misconception about Online Review and Reputation Management
First – It is to do with Public Relations.
Second – It is about social media management.
Third – It is about reviews.
Transparency in doing business:
Does your social persona match with how you do business? Keep in mind, your business culture must show up on your communication. Be it responding on social media and or Google My Business.
Customer Sentiments can affect your online reputation:
Customer sentiment is part and parcel of every business and transaction. You build relationships when you do business with your customers. These relationships result in feelings and emotions about your product, quality of service and your interact with your customers.
Customers today have the freedom to review positively or negatively and in addition are provided with online platforms to post the same.
It is important to you as a business owner/manager to listen, track and learn from what your customers are saying. The "SmartPresence" Dashboard by Nuance Digital Qatar helps you manage customer sentiments. This is one of the tools required for online review and reputation management.
Why Reviews?
Trust: Customers coming to your business find you credible after referring to the customer reviews on Google My Business, Facebook, Zomato and other online directories like the Qatar Yellow Pages.
Reputation: Opportunity to build a reputation for your business. More written reviews or more the stars higher the reputation as long as most of the reviews are positive
Higher ranking in Google search results: Google uses online reviews to push higher ranking on Google
Feedback: Use it to your advantage – respond to negative reviews and provide contact information to further get in touch.
Review Management:
Manage and respond to reviews
Customer reviews help you with valuable feedback for your business. Therefore, responding to reviews shows that you value your customers and their feedback.
Positive reviews and comments from your customers will increase your online visibility on search engines. This in turn will also help you engage with customers on your Social Media Profiles thus enhancing your online reputation.
Well reviews are provided either through star rating or in writing by the customer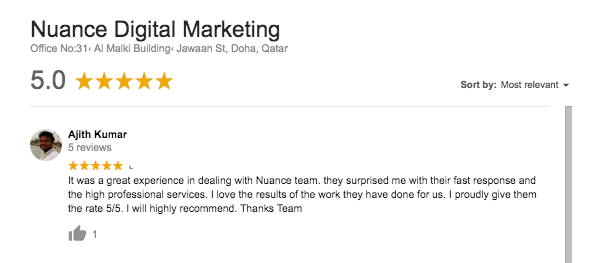 Reviews can be positive, negative or neutral in nature.
94 percent of consumers say that a bad review has convinced them to avoid a business.
53 percent of customers expect businesses to respond to negative reviews within a week.
But 63 percent say that a business has never responded to their review.
45 percent of consumers say they're more likely to visit a business that responds to negative reviews.
Source – reviewtrackers.com
How to get reviews on Google?
Claim your "Google My Business" listing: You can yourself claim your listing however, opting for professional help would be the right way forward to get the best out of your "Google Knowledge Panel".

Nuance Digital, Qatar can help you with this. Nuance Digital Marketing have helped in verifying hundreds of Google My Business for local businesses and have been managing it for them. https://www.nuancedigital.qa/claiming-your-business-on-google-and-optimizing-it/

Ask for reviews: Google encourages you to remind your customers to leave reviews. Get a full guideline on https://support.google.com/business/answer/3474122?hl=en

Respond to reviews: Ensure you respond to all your reviews positive or negative. Engage with your customers and appreciate their positive response and handle their negative reviews.
Reviews and how to handle them:
Positive reviews:
Attracting good and positive reviews always depend on the how the company responds to the needs of its customers in addition how fast can the customers be responded or reached out to.
Firstly, respond to every comment or review as fast as possible. Thank the customer for the comment or review.
Use the company name and the service in your response. Try creating a conversation by inviting the customer to do something more if he indeed likes your service.
Negative reviews:
Negative reviews are ratings or comments from your customers who have either seemed to have a bad experience with your service or not satisfied with the product purchased from you. You could also sometimes be targeted by your competition.
While it is not easy to respond to negative reviews, they musty be responded to. Firstly, thank the customer/reviewer for the review. Second, if the review is genuine apologies for the inconvenience caused and respond on an action plan with contact details of the executive who would personally contact them to solve the issue.
It would be the best success story if the reviewer adds a positive review or comment once the issue is resolved. This will help other customers to know how you handle customers and gives a reason for them to connect with you.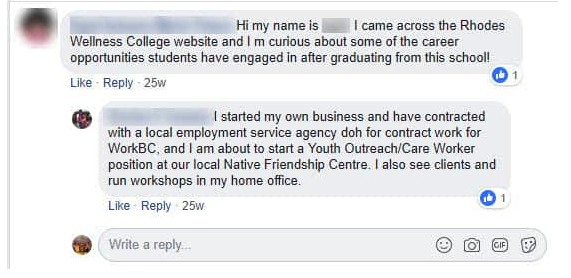 Neutral Reviews:
Neutral reviews are comments that combine both positive and negative feedback. It is usually a 3 star rating. This happens because of customers do not feel strongly motivated to describe their response to the service they have enjoyed.
In this case thank the reviewer for the comment or review. Ask them if they had anything in specific while appreciating them for the feedback. Let them know you are open to discuss and solve issues pertaining to the negative component of the review.
Let them know that you would like to hear more from them so that they can be serviced better. Therefore Good to take the discussion offline and let them have your contact details to connect or get in touch with you.
Your "SmartPresence" platform
The "SmartPresence" platform is a cloud hosted dashboard which is single interface for your Google My Business, social media profiles and aggregating sites
"SmartPresence" provides you with instant review alerts. You can engage with and respond to your audience in real-time. This i can recommend is the right tool for online review and reputation management for your company
Handling reviews on "SmartPresence" dashboard:
Narrow down all the reviews you receive on your profiles by categories like – Brand, place, sentiment and find relevant reviews by specific keywords like products you deal in, services you offer.

Instead of logging in to individual profiles independently, you can respond across all review sites from one place.

Take your time to respond to reviews. You can also use existing templates provided in the platform to respond to your clients

Engage with your customers so customer will be interact with your products and services
Handling Posts on "SmartPresence" Dashboard:
Post offers, events, announcements and videos on "Google My business". Create posts with high quality images and content. This serves as a short blog post or advertisement reaching your target customers.
To conclude:
Online review and reputation management is a must today given the fact that your customers are online and have the freedom to put forward their opinion be it positive or negative. This is visible in the public domain.
These reviews are the factors that your potential customers refer to before doing business with you. This makes it critical for every business to take reviews management very seriously.
Have a strategy to get your customers to review and ensure you respond to every review. This will help the reputation of your brand, your service over your competition.
Aldrin Menezes – Nuance Digital, Qatar